Tesam at the motor show in Poznań 27-30.03.2014
Date Added: 21-03-2014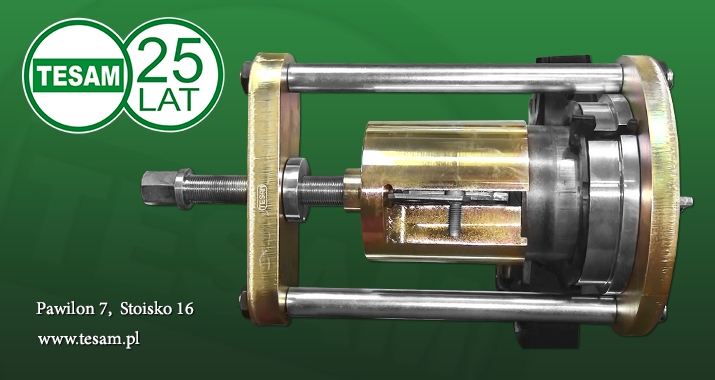 Visitors to the TESAM stand will receive trainings on Common Rail injectors, broken glow plugs, support for suspensions, bearings and many other effective car repair methods.
There will also be a premiere of NEWS
TESAM is a car mechanic with traditions.
At the Automotive Technology Fair, it will celebrate the 25th anniversary of the company's existence. Visitors to the TESAM stand will receive training and demonstrations of tools for handling broken candles, hydraulic pullers for injectors and suspension. Live will be able to see the functionality of specialized timing locks, injection pump tools, as well as many other devices and methods of car repair. It will be an opportunity to take a closer look at the innovative solutions developed by TESAM specialists. There will also be jubilee surprises! TESAM will also host one of the competition's finals of the 3rd National Mechanics Championships at its stand

The icing on the cake will be the NEW PREMIERE show.
Among them we will see, among others:
S0001250 - DSG clutch tool

Znajduje zastosowanie w samochodach Volkswagen, Audi, Seat, Skoda.
S0001310 - Injector puller adapter Tesam - Denso reinforced system

The injector is removed by mounting the adapter in the place of the injector body.
The adapter works with existing Tesam pullers. It is designed for cars with the Denso injection system: Toyota, Ford, Mazda and others.
S0001261 ??- Alfa Romeo 1.7 TBI timing lock

It is used in Alfa Romeo cars: Giulietta, 159, Spider, Brera; Lancia - Delta 1.7 Di with 939B1000 and 940A1000 engines.
S0001332 - Control device with remote controls for injector mounting bolt - 2.3, 3.0 HPI / 2.0 Renault, Opel Vivaro, Kia Ceed 1.6 CRDi

The device gives a proper, long-lasting direction of reaming the broken bolt of the injector mounting. It is used in cars with 2.3, 3.0 HPI engines. Fiat Ducato, Citroen Jumper, Peugeot Boxer, Iveco, 2.0 DCI / CDTI Renault, Opel Vivaro, KIA Ceed 1.6 CRDi and others.
S0001320 - Puller for metal-rubber rear suspension arms for Ford Mondeo MK 4 (cukierek)

The device is used to iron and iron the sleeves without the need to disassemble the swingarm. It is intended for Ford Mondeo cars produced from 2007.
Pavilion No. 7, stand 16

ore information about the fair can be found here - http://ttm.mtp.pl/pl/
Go to Main Page
Return to category Tesam S.C. at the Automotive Fair